#65: The Sword, Reforged. The Good Fight Begins.
The Sword has ended. The Good Fight has begun. |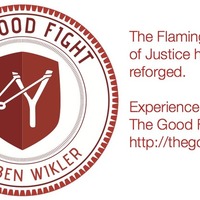 On November 14, 2013, the Flaming Sword of Justice was returned to the smelting furnaces of righteousness—and reforged as The Good Fight, a new weekly podcast and radio show with the same spirit, same host, and same sponsor, but a new city, format, time slot, and brand. If you loved the Flaming Sword of Justice, you'll be utterly enthralled by The Good Fight.
Check out The Good Fight, with Ben Wikler here!